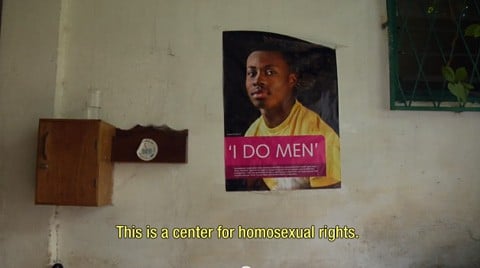 Wtih regard to the recent brutal killing of Cameroonian gay rights activist Eric Ohena Lembembe, Shaun Kadlec and Deb Tullmann are the filmmakers behind Born This Way, a documentary about the underground LGBT community in Cameroon which is now on the festival circuit.
They provided this statement to Towleroad regarding Lembembe's death:
"We spent nearly three months in Cameroon shooting Born This Way, a documentary about the underground LGBT movement there. We were overwhelmed by the power of the love and courage of those who fight for justice in Cameroon, and the film aims to communicate this. While we never met Eric Lembembe, Yves Yomb and several other heroic activists are featured. Cameroon has consistently been the most egregious violator of rights of gay and lesbian people in the world, imprisoning more people for their perceived sexual orientation than anywhere on the planet.
Gertrude Metsiegoum, also featured in the film, is currently in San Francisco as part of the film tour. Our hearts go out to her and all of our friends in Cameroon. The time for change is now, before more lives are lost. This tragedy will not stop the fight for LGBT rights in Cameroon"
Watch the film's trailer, AFTER THE JUMP…
They add, of the film:
LGBT right supporters and out homosexuals in Cameroon have come under a series of attacks in recent weeks. On June 26th, assailants set fire to the Alternatives-Cameroun (featured in the film) office in Douala. On June 16th, assailants broke into the Yaoundé office of a prominent human rights lawyer, Michel Togué, stealing confidential information.
On June 1, a burglary took place at the Douala headquarters of the Central African Human Rights Defenders Network (REDHAC). The two most recent attacks targeted groups supporting the rights of LGBTI people, leading activists to attribute homophobic motives to the perpetrators. Born This Way is not only an eye-opening work of art, but also a key component of a global campaign to raise awareness about an unjust, anachronistic law and the compromised legal system that enforces it. Lyrical imagery, devastating homophobia, glimpses of American culture and a hidden-camera courtroom drama coalesce into a story of what is possible in the global fight for equality.
Find the film's website here. It will be screening next Saturday as part of Houston's QFest.
The U.S. State Department just released a statement on Lembembe's death. Find it here.