New Zealand's marriage equality law does not go into effect until August 19, but Air New Zealand wants to host the country's first gay wedding, and is bringing a couple of American hosts on board to help out, the Herald Sun reports: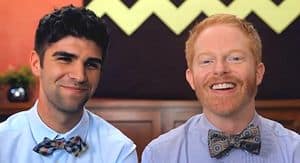 It has recruited American actor and same sex marriage campaigner Jesse Tyler Ferguson, who plays Mitchell in Modern Family, to be on board for the stunt. The openly-gay star is due to wed Justin Mikita in New York this month. Gay marriage was legalised in New York two years ago.
Air New Zealand's head of global brand development Jodi Williams said the wedding would attract media interest from around the globe.
"Naturally, the couple's family and friends will want to be on hand for the special occasion so we have plenty of seats set aside for them," she said.
The airline is also providing a honeymoon at Palm Springs in the United States.