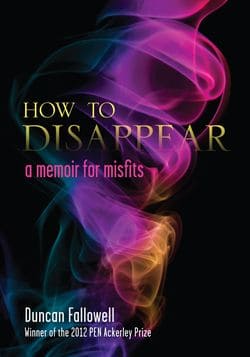 It's hard to know how to describe this strange, appealing book, which recounts
adventures—geographical, intellectual, sexual—undertaken by the English writer
Duncan Fallowell over the last thirty years. It calls itself a memoir, and in
Britain the book won the PEN/Ackerley Prize for "literary
autobiography"—but this is autobiography of a very peculiar kind, invested in
explorations of exotic places and unusual lives rather than in confession or
personal revelation.
The lives Fallowell explores are bound by two things: a misfit
quality and a talent for disappearance. One piece follows the career of an Indian woman who first marries
and then is abandoned by an English nobleman; she spends the rest of her life in
obscurity, desperately striving to reclaim her place at
the high table of fashionable England. In another, Fallowell is asked to write
a profile of an unknown artist who has bought an island in the Hebrides; having
traveled there for an interview, he waits with the locals for the new
landowner, who never arrives.
Not all of Fallowell's subjects are quite so obscure. "Who
was Alastair Graham?" seeks out an early lover and muse of Evelyn Waugh, who fled
his fashionable friends to seek refuge in a fishing village on the coast of
Wales. And the final, extremely moving essay takes up Princess Diana, "the most
legendary personality of the age," who "made the most astonishing exit."
But it's inadequate to talk about these essays as if they
were primarily determined by their subjects. Nearly all of these pieces are
structured by chance: a casually acquired Indian
Yearbook sets Fallowell off on one adventure; a random encounter in a bar
sparks another. In the book's first piece, recounting a trip to the Maltese island Gozo, a vaguely menacing man repeatedly appears until, through a
series of digressions and evasions, we find ourselves of a sudden in a
narrative of seduction.
What this means is that Fallowell writes as a great traveler
travels: governed by accident, open to possibility, free of any agenda save
curiosity. He despises the packaged, controlled experience, insisting instead on
openness to surprise and risk. "The crucial fact in all adventures is the
gift," he writes. "Something coming at you unannounced, unscheduled, free of
charge, impossible to refuse."
Even in their investigations, then, these pieces are
anything but goal-oriented, and their openness to misdirection allows them an
exciting expansiveness. "Nobody has come up with a satisfactory explanation
which marries human psychology to history," Fallowell claims, and as they
pursue their individual subjects these essays also meditate on the larger
forces shaping those lives: the legacy of British colonialism, the "state
terror" deployed against gay men in Britain between the wars, the mad culture
of celebrity by which Princess Diana was caught.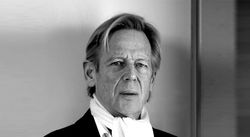 The effects of history are not
always what one might expect: in their grief for Diana, Fallowell writes, "People
were impassioned but slowed right down. Which are the two best conditions for
sex." He then recounts the "transcendental, unexpected burst of 'yes'" that
fueled a month of seemingly constant sexual encounters.
For all their intellectual pleasures—Fallowell is ever entertaining
and sometimes brilliant, quick with aphorisms that nearly always find their
mark—it's the supremacy of sensuous experience that the book finally proclaims,
not just "those divine gifts of pleasure and beauty, anguish and excitement in
human life which are sex," but also the pleasures of old hotels, of images
glimpsed through the windows of trains, of flowers "floodlit by the moon." One
night in India, he writes, "Taking off my clothes and extending my full length
I rolled from the top of the hill all the way down, crushing lilies as I went,
wetting my naked body with cool lily juice."
And so the book is a memoir after all, offering not so much the
facts of autobiography as an account of vision and value, a kind of manifesto
for an impassioned life lived far from the usual roads. "If you are drawn by
something or someone," Fallowell writes, "you have to give it a try," which
sounds simple enough but often proves so difficult. What's most moving in these
sinuous, surprising essays is the example Fallowell sets as he tries to hold
himself to that standard—working to learn, however difficult it is, "how not to
be shy of the heart." 
Previous reviews…
Frank
Bidart's 'Metaphysical Dog'
Alysia
Abbot's 'Fairyland: A Memoir of My Father'
Gerbrand
Bakker's 'Ten White Geese'
 
Garth Greenwell is the author of Mitko,
which won the 2010 Miami University Press Novella Prize and was a finalist for
the Edmund White Debut Fiction Award as well as a Lambda Award. This fall he
will be an Arts Fellow at the University of Iowa Writers' Workshop.