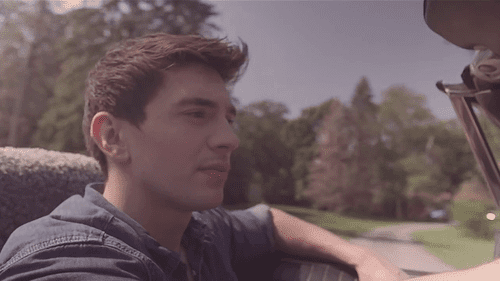 Matthew Rettenmund over at Boy Culture has a fantastic interview with gay "All-American Boy" singer Steve Grand, with Grand setting the record straight on his image as the 'first openly gay country star,' his difficult past, and the long road ahead.
Boy Culture: There's been some backlash to the Buzzfeed article that labeled you the 'first openly gay country star.' Do you see yourself as a country artist, let along as the first openly gay one?
Steve Grand: 'The first openly gay country star'…there's a lot of things wrong with that statement. I didn't set out to be the first of anything. I just wrote a song that I really believed in and that I wanted the world to hear. 
There've been people who've been out in country music before me, like Drake Jensen and Chely Wright and k.d. lang. It's false to say that I'm the first – I've never said that, I've never stood behind that. But I do appreciate the media that picked this up because I had no means of promotion, so I certainly have no ill will to any press that said that.
I've never considered myself country and didn't set out to write a country song. That isn't an important label to me. If some people wanna call it country, that's fine with me. I'll let people decide how they wanna label it; I just write the songs. 
And I'm not a star! [Laughs] I have one video with 1.6 million views. I'm so grateful that it's reached so many people so quickly, but more so, I'm grateful for the people who've reached out to me and are putting their trust in me. That bond I feel we're already establishing I hold more sacred than anything, and I wanna do anything I can to honor that. 
BC: Why did you use other names before, and why did "All-American Boy" deserve your real name?
SG: I guess I struggled with knowing myself for a very long time. That's caused a lot of pain and frustration in my life. Like, I remember being at some points in my life and being like, "I don't know what I even think about this, I don't know what I think about myself, I don't know what I think about the world, I don't know what I think about this issue – I'm so lost." I remember just breaking down and saying that to a really close friend. So I think part of the fact that I was using all these different names was a very kind of literal representation of the fact that I was trying to find an identity for myself.
It all comes back to the simple fact that you have to just embrace who you are, and everything that you are, and so I was like, "Well you know what? If I'm going this far, this song is very close to me, it's very personal to me." I'm not a calculated person. I'm someone who's an emotionally-driven person. So that all goes into the fact that I was acknowledging all of these parts of myself and I was like, "Well, I have to start with my name." For a while, I really didn't want to do that, I was like, "What if this all blows up in my face?" If people hated it, it's tied to my real name forever and maybe I'll really regret doing that, but it pretty much got to the point where it was just like, let's face it, I'm never gonna be able to forgive myself if I don't put this out there.
This is a song I've been trying to write for a very long time and this is one thing I feel so strongly about. And I'm so excited to feel so strongly about something for once.
Check out the full Q&A over at Boy Culture, where Grand goes on to discuss growing up a 'drifter,' his religion, what qualities attract him to a man, and even what's next on his life's road.