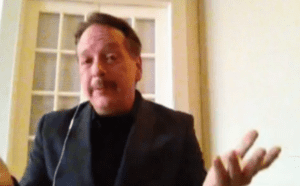 Pope Francis made remarks about gay priests and gay Catholics that generated a great deal of publicity on Monday. New York cardinal and archbishop Timothy Dolan subsequently made comments the following day that, according to some, attempted to backtrack on the Pope's message of tolerance and peace. It's not often that you find someone with a vested interest in both Catholicism and LGBT rights. Fortunately, HuffPost Gay Voices managed to find Father Gary Meier, an openly gay priest and author of the book Hidden Voices: Reflections of a Gay, Catholic Priest, and asked for his thoughts on the two potentially-conflicting messages spouted by both the Pope and Cardinal Dolan.
"I'm not the only gay priest," Meier began. "In fact, there are lots of gay priests in the clergy and in the Catholic church today." He went on then to explain that the Pope's original comments could potentially aid those gay members of the clergy who live life in fear of being exposed to their colleagues and congregations. 
"I'm hopeful that the pope's comment about gay priests would maybe encourage other gay priests to come out, as I have a few months ago, and just not be so afraid to just be gay and to be a priest…There's been such a lot of anti-gay and hostile environment from Catholic hierarchy throughout the world towards the LGBT community." 
Thus, a comment such as "who am I to judge," coming from the world's most powerful Catholic could certainly be the catalyst for a welcome change in tone with regard to the church's teachings on homosexuality. "I'm an advocate that homosexuality is a gift from God," Meier said.
"It's not a curse, it's not a cross, it's not something you have to be silent about and be ashamed of…I hope that this [the Pope's comment] might be an avenue in which to have further conversations about homosexuality and what it means to be gay and Catholic." 
What about detractors such as Dolan? Meier chose not to address the cardinal's comments directly. Instead, he chose to simply gloss them over by saying "the fact of the matter is that most Catholics in the United States support the LGBT community," and previously offereing up his own comming out experience as proof. 
Watch Meier's interview at HuffPost Gay Voices HERE.