After receiving 'assurances from the highest level' that any LGBT individuals participating in the upcoming 2014 Winder Olympics will be exempt from Russia's newly minted anti-gay laws, the IOC released a statement on Friday in the hopes of putting growing concern at ease.
The Human Rights Campaign, however, isn't letting the IOC off the hook that easily.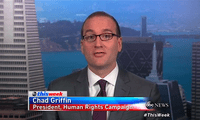 Says HRC President Chad Griffin:
"Mere verbal assurances from the Russian government that foreigners will be exempt from their repressive laws are not enough…The IOC must obtain ironclad written assurance from President Putin. But more importantly, they should be advocating for the safety of all LGBT people in Russia, not simply those visiting for the Olympics. Rescinding this heinous law must be our collective goal."
Putin, for the record, is still adamant that that homosexuals are "full fledged members of [Russian] society and are not being discriminated against in any way."