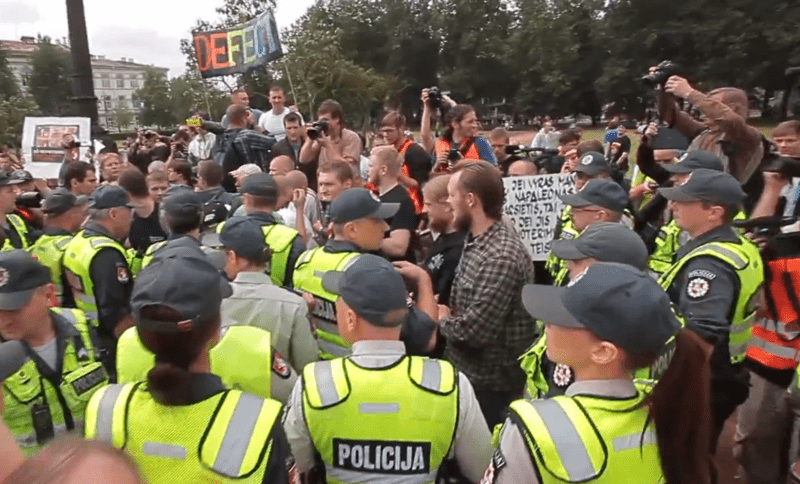 Lithuania held its second ever gay pride parade today and, like the first one held three years ago, participants were met with anti-gay demonstrators. The protesters attempted to rush a stage that had been set up for pride but police in the capital city of Vilnius were able to keep them at bay.
The Associated Press reports:
They were met by hundreds of unruly protesters, 28 of whom were detained, police said. Among them was Petras Grazulis, an anti-gay lawmaker who rallied protesters with a bullhorn. He was thrown face-down on the ground and carried off in handcuffs by police, though the lawmaker soon reappeared at the protest after being released from police custody.

About 50 protesters tried to storm a concert stage where activists were to speak, but police forced them off. Protesters also threw eggs, hitting Lithuanian lawmaker Giedre Purvaneckiene and Sweden's European Union Affairs Minister Birgitta Ohlsson, who were standing at the front of the parade along with other dignitaries.

"It shows that we need to march until eggs aren't thrown anymore and people can march freely and without fear," said Purvaneckiene, who was not injured.

The parade, dubbed "the March for Equality," is only the second such event for Lithuania, a predominantly Catholic nation of 3 million people that activists say has not done enough to ensure gay, lesbian, and transgender rights.

Large segments of the population in Lithuania, along with other areas of the former Soviet Union, are opposed to the idea of equal rights for gay people.
Last week, an AFP article reported that the country's television broadcaster refused to air clips promoting pride during the day because they felt that the segments would "'promote same sex relationships,' which do not meet the constitutional definition of marriage as a union between man and woman."could be harmful to minors."
Watch video of police effectively push back the mob of anti-gay protesters, AFTER THE JUMP.