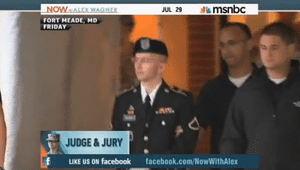 Col. Denise Lind, the military judge presiding over the trial of Pfc. Bradley Manning, has announced that she plans to announce her verdict at 1 PM Eastern on Tuesday. Manning, who has been on trial since June 3, faces the potential charge of "aiding the enemy" among others, the penalty for which is life in prison without parole. Manning faces 21 counts in all for his release of over 700,000 to Julian Assange and WikiLeaks. He has already plead guilty to 10 of those counts, all of which could potentially carry the collective penalty of 20 years in prison. According to the Huffington Post:
"He also is charged with eight federal Espionage Act violations, five federal theft counts, and two federal Computer Fraud and Abuse Act violations, each punishable by up to 10 years; and five military counts of violating a lawful general regulation, punishable by up to two years each."
A sentencing hearing has also been tentatively scheduled to begin on Wednesday. 
With various "whistleblowers" making headlines throughout recent months, Bradley Manning's soon-to-be verdict will no doubt revive much of the extensive debate that erupted when his story first broke in May of 2010. Closing arguments from both sides reflected the nature of the debate surrounding Manning, with the defense painting him as a "naive whistleblower" and the prosecution characterizing him as "an anarchist hacker and traitor". 
Manning was also the subject of controversy earlier this year, when it was first revealed that he had been appointed grand marshall of the San Francisco Pride Parade. SF Pride subsequently changed their minds, prompting extensive debate.