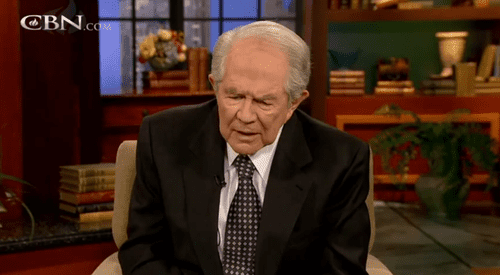 Towleroad readers know that Pat Robertson isn't exactly known for his tolerance or open-mindedness. On the contrary, he has an extensive history of making ignorant and homophobic remarks. However, in a recent "Bring It On-Line" Q&A segment on his show, Robertson made an admission that many may find shocking. 
The question came from a viewer named "David", who asked:
"I work with two people who have decided that they are females. I know what the bible says about homosexuality, but is it wrong to refer to them as females since they have had their gender status changed in the eyes of the law?"
Robertson's reply, in short: no. While he did call the process of transitioning "drastic" and "radical", and said that he would "question the validity" of anyone who would come out to him as trans, Robertson did admit that "there are men who are in a woman's body. It's very rare, but it's true…or a women that are in men's bodies." Such an admission from the likes of Pat Robertson would already be considered a victory. However, he also added that "I don't think there's any sin associated with that. I don't condemn somebody for doing that," before concluding that "it's not for you to decide or to judge."
Imagine that, a televangelist televising a message of (relative) tolerance. 
If you're having trouble believing it, you can take a look at the video AFTER THE JUMP (at around the 2:28 mark). In context, do Robertson's comments represent a step in the right direction for trans equality? Give your opinion below.