A new app for iPhone and Android is invested in teaching the LGBT community about just how far it has come. Quist, released for download globally today, will teach its users a daily history lesson, ranging from the darkest corners to the brightest high points of LGBT culture, politics, and movements.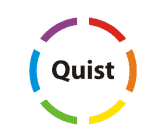 According to the app's website:
Historical events in the app paint a picture of how far the LGBTQ community has come over time — how we have been treated, how we have reacted, how our allies have supported us, and how others have worked vehemently to stop the progress. LGBTQ individuals' contributions to society and events in HIV/AIDS history are also included.
In a time where gay teen suicide is still a devastating reality, Quist (which is available as a free download) cites generating an awareness of past shared struggles for LGBT youth as one of its goals. The app evidences a need for new ways of constructing, remembering and sharing queer history, as the LGBT community continues to make political and social gains and risks forgetting the trajectory that has brought us to this point.
By bringing Stonewall, the Mattachine Society, and other formative queer moments and movements into the new millenium, Quist could be an important new tool for LGBT community building.
Download it today on your mobile device or online through iTunes.