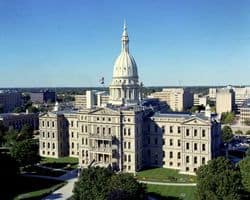 Lansing, Michigan is currently listed as the "sister-city" to St. Petersburg, Russia. That may change soon, however, if Russia continues its intolerance of LGBT citizens and foreigners. BeaumontEnterprise.com is reporting that the Lansing City Council discussed ending their relationship with the Russian sister-city late Monday night, and plan to "take up a resolution soon". 
The issue was raised late last week by Councilwoman Jody Washington, who condemned Russia's new anti-gay laws, as well as the arrests of both citizens and foreign tourists that followed. "We need to say we do not tolerate this, we do not accept this." Lansing Mayor Virg Bernero also called the actions "abhorrent", but also maintained that diplomacy must be tried before resorting to such measures. 
According to Beaumont Enterprise…
"The city's relationship with one district of St. Petersburg formally began in 1994 with a youth exchange program but fell dormant after political and geographic districts of St. Petersburg were changed several years ago. The Sister Cities Commission's goal is to promote community understanding and appreciation of other cultures in hopes of creating a more peaceful world. Lansing has five other sister cities around the globe, as well as 'friendship cities' with which it has ties."
The Associated Press has sent a request for comment to Russian embassy in the U.S. Said request currently remains unanswered.