At a news conference this week, Grant Tennille the head of Arkansas' economic development agency and Chad Griffin director of the Human Rights Campaign implored Arkansas to lead on LGBT issues in the south: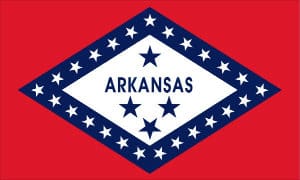 (Tennille) said Arkansas, to both attract jobs and keep the state's intellectual capital from leaving, must create an atmosphere of equality. "It's an incredibly simple concept," Tennille said. Arkansas needs to be a place where all are welcome."
Tennille added that he didn't think he'd change Gov. Mike Beebe's mind on his opposition to marriage equality. Beebe at least allows Tennille to speak freely. Indeed, Beebe said later that Tennille was entitled to his opinion but his belief that marriage should only apply to a man and woman hadn't changed.
Rep. Deborah Ferguson, D-West Memphis, who introduced the speakers, said it was time to let those in the LGBT community know "that we stand with them as allies," and Rep. Greg Leding, D-Fayetteville, said he would urge "all Arkansans to go out and change hearts and minds." UALR student Ty Stacey talked about coming out to her family at age 18 and how difficult it was but that she was helped by role models like former state Rep. Kathy Webb of Little Rock, the only open gay lawmaker to serve in the legislature. Other speakers were James Rector, head of the Northwest Arkansas Center for Equality, which has worked with students to fight bullying, and Ruth Shepherd, director of Just Communities of Arkansas, who pledged JCA's support in efforts to bring about change.
A poll of 600 Arkansas adults conducted late last month offers a few encouraging statistics from the state:
· 61 percent of Arkansans under age 30 support marriage equality, and 63 support legislation that would ensure no one could be fired because of their sexual orientation or gender identity…
· 90 percent of people of faith in Arkansas agree that the Golden Rule — treating others as we ourselves would wish to be treated — extends to LGBT people.
· Nearly 70 percent of Arkansans support anti-bullying laws against LGBT youth.
· 64 percent of Arkansans believe it does more harm than good when a religious leader condemns LGBT people.
Late last month, Arkansans for Equality submitted a constitutional amendment to the state attorney general seeking to repeal the state's constitutional ban on same-sex marriage. If approved, the group will need to collect 78,133 registered voters' signatures to get the amendment on the 2014 ballot.