The Salzburg Global LGBT statement.

Allyson Robinson announces resignation as head of Outserve-SLDN.

Ask California Governor Jerry Brown to sign AB1266, a bill protecting trans youth.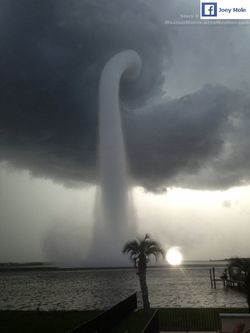 Man captures incredible images, video of waterspout north of Tampa.

VIDEO: Jay-Z lip-synchs for 6 hours at NY gallery.

Alexander Meadows, Corey Johnson's rival in NYC City Council race, drops out and endorses him over candidate Yetta Kurland. "I am endorsing Corey today because, over the course of the campaign, I have seen him really listen to voters and show a deep understanding of the issues." Johnson also gets the endorsement of Assemblymember Deborah Glick.

Google fundraising for anti-gay climate denier Senator James Inhofe.

San Francisco Asiana crash 911 calls released.

Gay couple banned from worshiping in English church: "Labour MP Ben Bradshaw said a 'local conservative evangelical church' had turned away the unnamed couple, who do not want to be identified….He told the House: 'I recently came across a case of a Christian couple in a same-sex relationship and with children in the local church primary school to whom it was made clear by the local conservative evangelical church that they would not be welcome to worship in it.' He added: 'Intolerance and bigotry have no place whatever in the Church of England.'"

Jake Gyllenhaal takes his Boston terrier for a walk.

Male model fix: Christian Johnson.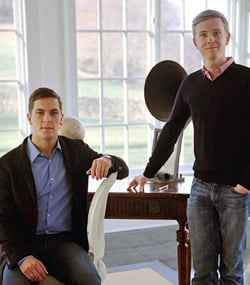 NYT puts spotlight on Sean Eldridge and Chris Hughes' wealth, political ambitions…

Indian woman confesses to police after killing husband over gay affair: "When asked that why she had committed such a heinous crime, Uttam claimed that all her efforts to change the sexual inclinations of her gay husband had proven futile and she was left with no other choice except killing him. 'He had an affair with a domestic help who used to work at their house. Uttam was upset over the matter and had warned him many teams,' a news report quoted the investigating officer of the case telling."

OMG: Some essentials for Ptown Bear Week.

Carol Channing thrilled that Johnny Depp may play her: "Every time I see someone impersonate me, I can't help but think I must have a hormonal imbalance. Johnny Depp has said he wants to play me in a movie. Wouldn't that be great? People say, "But he is a man," but it doesn't surprise me at all. I can't remember the last time one of my impersonators didn't have a 5 o'clock shadow."

James Franco to be roasted.

Texas Senate adjourns for the day, but only after everyone gets their picture taken with Rick Santorum.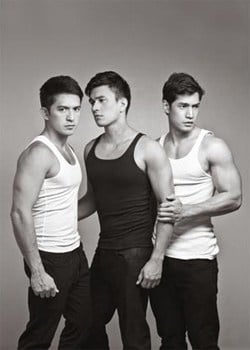 My Husband's Lover makes groundbreaking TV in the Phillippines.

One of Big Brother's resident racists, Aaryn, thinks being called Barbie is an equivalent slur.

A New Hampshire gay couple talks about their experience adopting a child:
"Parenthood scared me, there's no doubt. And it took time for my mind
to change. But my husband helped me. Our lawyer helped me. Baxter's
mother helped me. Years of planning and research and saving helped me."

First look: Josh Brolin in the Spike Lee remake of Oldboy.

Neil Tennant of the Pet Shop Boys talks to Spin about rediscovering the joys of youth in Electric: "We first recorded in New York exactly 30 years ago, and we were listening to Latino dance music on the radio. I had a cassette of Madonna's first album, because I was a journalist and I had an advance. We were listening to 92KTU on the radio, and it was a very powerful influence. Somehow, it's all re-emerged on [Electric], and I don't even know how. It wasn't a deliberate strategy, but it seems to have some of that young flavor of New York in the early '80s. Throughout the album, the music's got a lot of space in it. If you listen to electronic dance music of the early '80s period, like for instance, Madonna's first album [1983's Madonna] — there's a lot of space in the music, too. It's not filled up with samples and clever keyboard parts. [That era's music] has a slightly naïve technological approach in that the synth-bass lines are probably played live, so the timing of the records is a little unsteady. If you listen to Lisa Lisa & Cult Jam's [1985 single] "I Wonder if I Take You Home," she's singing totally out of tune, but there's something really great about it."