President Obama nominates Caroline Kennedy to be US Ambassador to Japan. If confirmed she will be America's first female ambassador to the land of the rising sun. 

A broader call for boycott of Russian products.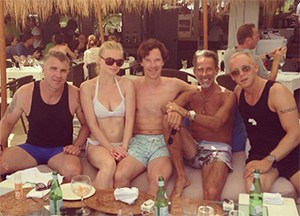 David Beckham finds another excuse to take off his shirt.

If you haven't seen these horrific and heartbreaking pics of the anti-LGBT human rights abuses in Russia as of late you must take a look.

Too much hotness to handle? Ryan Gosling and Zac Efron allegedly in talks to star in Star Wars.

Benedict Cumberbatch officiates gay wedding in Ibiza.

Obama administration, unhappy with Morsi ouster, cancels delivery of planes to Egypt: "Given the current situation in Egypt, we do not believe it is
appropriate to move forward at this time with the delivery of F-16s,"
the Pentagon press secretary, George Little, said Wednesday. He did not
cite any specific actions by the Egyptian military."

It's becoming tired but still, Bill Clinton's 'Blurred Lines' is pretty great.

Jane Austen gets face-time on UK currency.

George Alexander Louis: what's in a name?

The road not taken: Jared Leto could have been a drug dealer.

78 dead, 178 injured in terrifying train crash in Spain.

Beth Ditto got hitched!

Court to hear closing arguments in Bradley Manning case today.

Superhuman future possible with superorgans?: "Synthetic DNA circuits inserted into human stem cells could soon allow us to build new organs with unprecedented precision and speed…The technique could prove an efficient way of making organs for transplant without the worry of rejection, and raises the tantalising possibility that it might one day be possible to upgrade the organs we were born with."