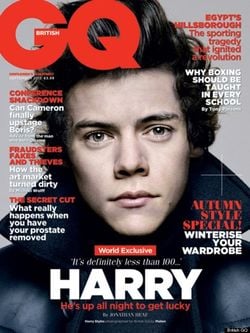 All five members of One Direction will be individually gracing their own cover of GQ's UK edition this upcoming September. To commemorate that fact, the boys were also interviewed by the magazine, and it was during that interview that Styles was asked point blank about his alleged bisexuality. According to GQ and E! News, rumor has had it for months now that Styles has been engaging in a relationship TV and radio host Nick Grimshaw. 
His answer? "Bisexual? Me? I don't think so. I'm pretty sure I'm not." He went on to say…
"Some of them are funny. Some of them are ridiculous. Some of them are annoying. I don't want to be one of those people that complains about the rumours. I never like it when a celebrity goes on Twitter and says, 'This isn't true!' It is what it is; I tend not to do that. The only time it gets really annoying is that if you get into a relationship and you get into a place where you really like someone and then things are being written in the papers that affect them and how they see you. Then it can get annoying."
One hopes that this isn't an instance where Styles finds the rumors to be "annoying". Otherwise, he might want to give a more committal response.