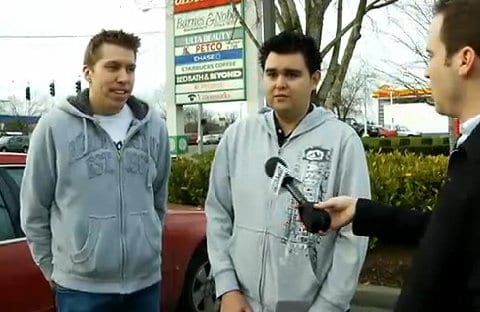 When boyfriends Jeremy Mark and David Beltier of Beverton, Oregon took their two-year-old poodle on a walk last March, they ended up becoming victims of a hate crime:
The victim said he was walking with his boyfriend in the crosswalk when someone pulled up next to them and started yelling homophobic slurs, while also making fun of their dog named Beauty.
… Beltier said the man then got out of his SUV and started punching him in the face. The suspect then went back to his car and emerged with a foot-long metal wrench.
The man hit Beltier in the back of the head with the wrench.
The victim was not cut open or badly hurt, according to police. He did suffer a bump to the back of his head.
The victims said the attacker then got back into his SUV and sped away.
"He was saying your poodle is a weird color and that's just un-American and F-you, you f— and shouting," said (Mark).
Luckily, other drivers saw the attack and took down the SUV owner's license plate number, resulting in the arrest of 23-year-old George Mason Jr..
Mason now faces federal hate crime charges, and his wife has snagged a criminal charge as well:
His wife, Saraya Gardner, was charged with obstructing justice. Federal officials said she lied about Mason's whereabouts to Hillsboro officers, and then further misled them when she repeatedly changed her story about the weapon used to strike the victim. She now faces prison time.
In addition to the hate crime charge, Mason was also charged with second-degree intimidation, second-degree assault, unlawful use of a weapon and reckless driving.
Watch news footage about the attack, AFTER THE JUMP…