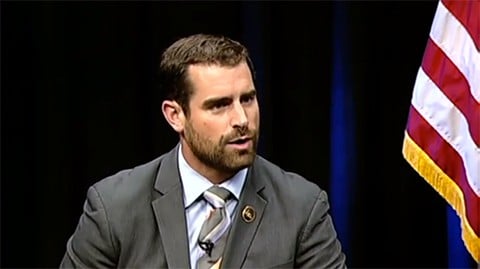 "Galvanized" by the Supreme Court rulings last week, out gay Pennsylvania state Representative Brian Sims, along with fellow Representative Steve Carter, sat down on Sunday to discuss their plans to introduce legislation in the Pennsylvania House of Representatives that would make same-sex marriage legal in the Keystone State.
Asked about his motivation to act, Rep. Sims stated,
"I was lucky enough to be born into a country that says I won't be treated any differently under the law based on anyone's selective interpretation of their own faith. Right now there are upwards of a million LGBT Pennsylvanians that are being treated differently under that law than similarly situated LGBT New Yorkers or Californians and that's a huge problem. And the moment they cross into Pennsylvania do they lose the thousand or so federal rights just attached to them? And if that's the case, where are we at right now in our government that people lose rights by crossing a border?"
This January, Sims became the first openly gay state representative in Pennsylvania. As of February, a new poll showed a majority of Pennsylvanians in support of marriage equality.
Watch the conversation in full AFTER THE JUMP…