Chris Johnson, the White House reporter for The Washington Blade, has published his reflections on working with Helen Thomas as a member of the White House Press Corps. Thomas, the first female journalist to cover the president, passed away Saturday at the age of 92.
Recalls Johnson: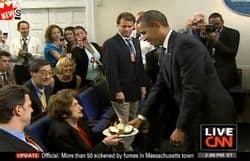 I first saw Helen Thomas (pictured right with President Obama) in the White House briefing room when I started attending daily briefings at the start of the Obama administration, working the beat for federal LGBT politics. Blade reporters had been kicked out of the briefing room during George W. Bush's second term, so it was a new era and an exciting time.
I remember thinking Thomas could move around the press area deftly for a woman in her late 80s and could hold her own in conversations with other reporters. During a news conference with President Obama in the East Room, she had to have someone escort her by hand over the wires and between the chairs, but otherwise she seemed full of energy.
Bestowed with a front row seat in the briefing room by her colleagues, Thomas would pester then-White House Press Secretary Robert Gibbs with questions that would probably veer a little too close toward editorializing than other reporters in the briefing room would be comfortable asking. 
…
But Thomas was holding the White House accountable long before the Obama administration. Getting her start in the Kennedy administration, Thomas broke up the boy's club that was the White House Press Corps and was the first female reporter to cover the president, rather than the first lady.
In 1962, she pressed Kennedy to skip the annual dinner of the White House Correspondents Association unless it were open to women. After he said he wouldn't attend, the dinner for the first time admitted women.
One of my major regrets is that I never initiated a conversation with Thomas during the times I saw her in the White House briefing room or the press area. Our time that coincided covering the White House in 2009 was very short. Also, I was a little intimidated as I was still getting my bearings. Lesson to all: If you see someone you admire, take the opportunity to speak to them before it's too late.
You can check out the full article, HERE.