A regional Siberian lawmaker has announced he intends to set up a group to protect Russians from gay people, and says they must be treated and re-educated, RIA Novosti reports: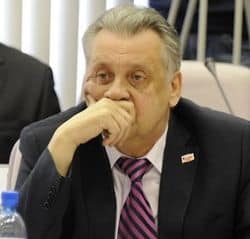 "None of these people [homosexuals] are harmless, and they force us to defend ourselves," said Alexander Mikhalov, a deputy in the Zabaikalsky region legislative assembly. "Real attacks on normal people are underway. We have to re-educate [homosexuals], or treat them. Homosexuality is a dead-end in Russia's evolution."
Mikhalov says action must be taken to address growing acceptance of homosexuality, and that action must be severe:
The idea of creating a group to defend citizens against homosexuals is supported by large swathes of society, Mikhailov claimed, adding that gay people were particularly "active" on the internet. "We must attract attention to this problem," he said.
It is not the first time Mikhailov has made outspoken remarks on the issue. Last month he proposed regional legislation that would allow paratroopers and Cossacks the right to beat homosexuals with a leather whip in public places.
Russian President Vladimir Putin recently signed a law to fine and punish anyone spreading "gay propaganda". He also banned gay adoptions by foreign couples. Earlier today we reported on a warning that gays traveling to Russia could face two weeks jail time before being deported from the country.