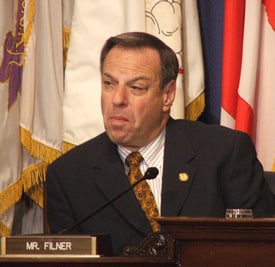 Mayor Bob Filner has previously faced anonymous allegations "that he harassed 'numerous' women," according to Politico. Now, his former communications director, Irene McCormack Jackson, is coming forward as well. She and her celebrity attorney, Gloria Allred, are filing a sexual harassment lawsuit, according a a press conference held this past Monday. 
McCormack Jackson, a former reporter, resigned from her position as communications director last June. According to her and Allred, this was due to repeated sexual misconduct by Filner. "Women were viewed by Mayor Filner as sexual objects or stupid idiots," said McCormack Jackson, "His behavior made me feel ashamed, frightened and violated." Allred then detailed a few occasions in which Filner "asked McCormack Jackson to 'work without her panties on,' placed her in a headlock, and told her that he wanted to consummate their relationship." Allred also added that there were witnesses for certain events. Both women called for Filner to resign. "He is not fit to be mayor of our great city. He is not fit to hold any public office."
Mayor Filner responded to the allegations on Monday, saying that "I do not believe these claims are valid…That is why due process is so important. I intend to defend myself vigorously and I know that justice will prevail." He has also denied previous allegations of sexual misconduct, and has subsequently resisted multiple calls for his resignation. 
Allred, who has already taken on the likes of Tiger Woods, O.J. Simpson, and Herman Cain, told reporters that she hasn't yet received contact from anyone on Filner's side. She is asking for anyone who has been victimized by Filner, or anyone with information on any of the incidents, to come forward. "We think that silence only favors the wrongdoer and not the victims."