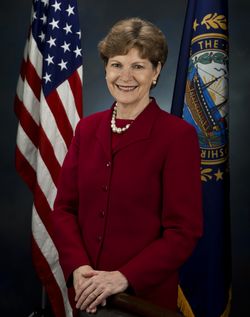 The Senate Appropriations Committee approved the Jury ACCESS Act as part of a larger financial services appropriations bill for fiscal year 2014, which handles funding for finance-related government entities such as the Treasury Department and the U.S. Securities & Exchange Commission. According to the Washington Blade, the approval was narrow, with a 16-14 split. 
The Jury ACCESS Act was introduced by Sen. Jeanne Shaheen (D-N.H.), and cosponsored by Sens. Susan Collins (R-Maine) and Sen. Sheldon Whitehouse (D-R.I.). Towleroad readers may recognize Shaheen as also being the chief sponsor of the Charlie Morgan Act, which seeks to secure benefits for gay troops and their partners. 
"Discrimination based on sexual orientation or gender identity simply has no place in the United States. The judicial process should represent our nation's principles of inclusion and acceptance, and eliminating the discriminatory exclusion of LGBT jurors is a necessary step to meeting that goal."
At present, federal courts are prohibited from discrimination against jurors on the basis of race, color, religion, sex, national origin and economic status. Shaheen's bill, which carries the full name The Jury Access for Capable Citizens & Equality in Service Selection Act, would add the categories of sexual orientation and gender identity to that list. 
For those wondering how a financial services appropriations bill can be allowed to make changes to laws regarding jury selection, the Blade explain that "the financial services subcommittee on the Appropriations Committee has jurisdiction over the judiciary."