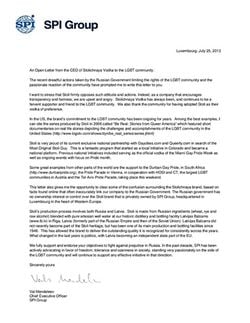 In response to the boycott organized by Queer Nation to dump Russian vodkas in protest of Russia's anti-gay laws, Stolichnaya's parent company the SPI Group released a statement pledging their support to the LGBT community: 
We fully support and endorse your objectives to fight against prejudice in Russia. In the past decade, SPI has been actively advocating in favor of freedom, tolerance and openness in society, standing very passionately on the side of the LGBT community and will continue to support any effective initiative in that direction.
Dan Savage is pleased that this has gotten their attention, but notes that the gesture is not good enough: 
SPI is a Russian corporation, Stoli is a Russian vodka. And while it's nice that SPI is willing to market to homos who are lucky enough to live in Austria, the US, and South Africa, what has SPI done in Russia?
Dan also points out that one of the commenters over at Joe.My.God. makes a very astute observation: 
So is the CEO of Stoli now subject to arrest and incarceration in Russia for writing this pro-gay letter?
Food for thought. Even though the CEO and company are based in Luxembourg, the company's owner Yuri Scheffler lives in Russia and the company's production process involves Russia, while this letter openly condemns the Russian government and explicitly supports homosexuality, thus making it "propaganda" under Russian law.