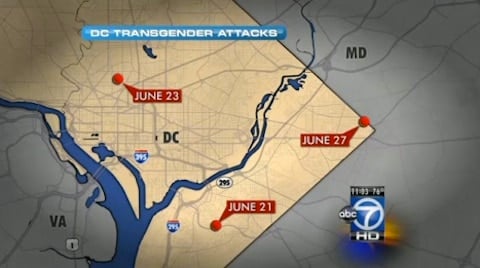 DailyKos reports that in the past 10 days in Washington D.C. there have been at least six reported attacks on LGBT people, four of which involved transgender victims.
Some advocates agree that several of the incidents, two of which occurred Saturday, were most likely not motivated by sexual orientation. But they say all should be highlighted because a vulnerable group is involved and the public should know what's happening.
Others disagree. Diane Davis of Temple Hills, the aunt of recent homicide victim Malika Stover, was angry when advocates distributed a funeral notice that read: "Shooting claims life of LGBT [lesbian, gay, bisexual and transgender] victim." Stover, 35, who was a lesbian, was not killed because she was gay, Davis said.
"She was a person, not a label," said Davis, who thinks her niece was slain in a June 22 robbery of a dice game near her childhood home in Southeast Washington's Barry Farm. "That funeral statement contradicts what I think happened."
Watch ABC7's disturbing report on some of the attacks, AFTER THE JUMP…