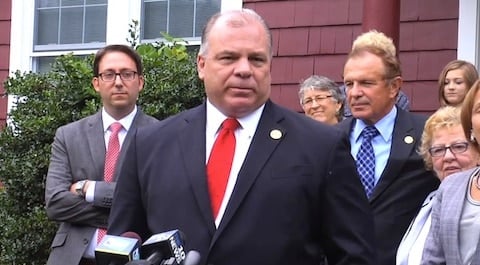 New Jersey Senate Democrats, led by Senate President Stephen Sweeney, held a press conference yesterday announcing that they would hold a vote to override Governor Chris Christie's veto of a marriage equality bill the legislature passed last year.
Sweeney urged Republicans to allow a "conscience vote" on the issue given the Supreme Court's strikedown of DOMA, the NJ Star-Ledger reports:
But first, Sweeney said, at least a few Republicans have to change their no votes to yes. The Senate president said Christie has intimidated GOP lawmakers, claiming some have privately admitted they would like to change their votes to allow same-sex marriage.
Later in the day, Christie scoffed at that suggestion, saying he gives advice to legislators but he's "not the one down there pushing the buttons."
Watch Sweeney make the announcement, AFTER THE JUMP…