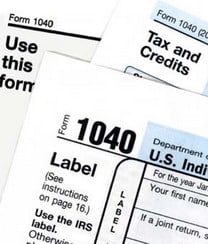 Following the Supreme Court's decision to overturn the majority of the federal Defense of Marriage Act (DOMA), many questions have lingered over the thousand or so benefits that married gay couples are now eligible to receive. However, the IRS, in an attempt to comply with the court's ruling, has found itself in something of a quandry. One key problem in making equality a reality is geography, as Businessweek reports:
"Those living in Washington, D.C., or the 13 states that allow same-sex
marriages can file a federal tax return next April just like other
married couples. Not so for the thousands of gay couples who took their
vows in one of those states but who live in one of the 37 others where
same-sex marriage isn't recognized. It's not yet clear whose definition
of marriage the IRS is supposed to follow in evaluating their taxes—the
state where the couple got married, or the one in which they reside. And
will the federal government recognize gay couples in civil unions who
file a joint return?
To avoid confusion, a single nationwide rule makes the most sense, says
Patricia Cain, a tax law professor at Santa Clara University in
California. "The IRS has the power to construe the Internal Revenue
Code," she says. "So for them it's, 'What does the word spouse mean?' "
President Obama has weighed in, saying it's his "personal belief" that
same-sex couples should get the same federal benefits as married couples
regardless of where they live. He's asked federal agencies to research
legal issues that might stand in the way. Such a ruling, though, could
cause headaches for the IRS, which until now has typically followed
states' definitions of marriage, says David Herzig, a tax law professor
at Valparaiso University. "You may solve this problem," he says, "but
you may open up another."
Businessweek also suggests that it's unclear whether gay couples will benefit financially in a broad way if they can file joint tax returns. While filing separately will maximize tax savings for some, filing jointly will be more beneficial for others. And there's also the question of refunds. As the IRS normally allows taxpayers three years to re-do their tax returns, some couples may be eligible for increased refunds. But should a couple end up owing the federal government more after filing together, will the IRS require couples to pay the additional tax?
Pay-roll taxes on employer-provided health insurance, incurred only by same-sex spouses, present another headache:
"The IRS could allow refunds, and then
businesses would have to figure out how to distribute them to employees
and ex-employees. Some companies pay married gay employees extra to
cover their health-care tax burdens; they would have to decide whether
to seek reimbursements from workers who get income tax refunds."
However, with a congress hostile not only to the Obama administration but also to the IRS in particular, it's almost certain that any attempt to formally codify gay marriage into the tax code will draw the ire of the right: "No matter what [the IRS does]," says Herzig, "it's such a volatile issue they'll end up getting a challenge."