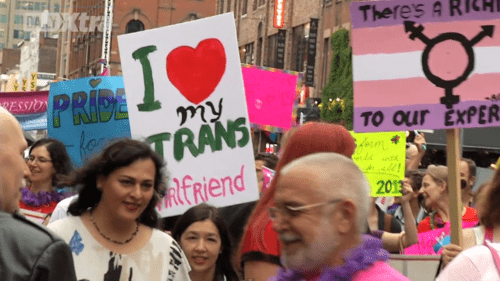 Last weekend's Toronto Pride included a significant milestone for the city's trans community, with a planned Trans March taking place for the first time along the main, official parade route, reports Demotix:  
The 2013 Trans March as part of Pride Toronto, was finally 'permitted' to march down Yonge Street, having been relegated to Church Street in past years leaving many in the community feeling sidelined by the Pride Toronto organization.

This years theme for the Trans March was "Celebration, Commemoration, Demonstration by and for the Trans Community" and there was plenty to celebrate. The march which had been relegated to march down Church Street in the past was finally 'permitted' by Pride Toronto to march down Yonge. The other two major parades over the Pride weekend, including the Dyke March and main Sunday parade, both have their routes on Yonge Street.
In previous years, trans demonstraters have defied the Church Street route and instead marched down Yonge Street to protest what was seen by some in the community as a lack of visilbility for trans people and issues in Toronto Pride.  On Pride Toronto's website, the organization wrote that it was "pleased and honoured to be marching with Trans* March 2013, on Yonge St for the first time, thanks to the efforts of Trans* communities."
Check out a great video of the Toronto's Trans March, via Daily Xtra, AFTER THE JUMP…