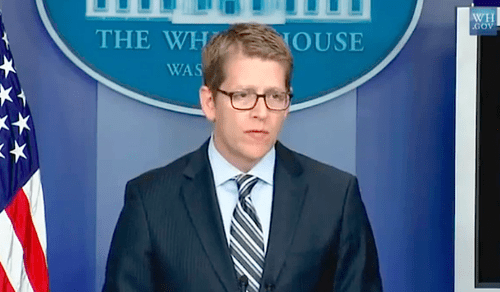 In a conversation with the Washington Blade's Chris Johnson on Friday, White House Press Secretary Jay Carney reiterated Obama's preference for legislative passage of the Employment Non-Discrimination Act (ENDA) when asked about a possible executive order to bar LGBT workplace discrimination among federal contractors.
Says Carney: 
"I will not argue with you when you say there are obstacles that ENDA faces to becoming law, but the fact is, this was a good week in progress towards passing ENDA and the president strongly supports the efforts undertaken by Senate Democrats and some Senate Republicans to encourage the passage of this legislation, and we'll continue to work with the Congress to see it done," Carney said. 
Carney also said he's unaware of some LGBT rights advocates' call to boycott the upcoming 2014 Olympics in Sochi over Russia's gay "propaganda" ban.
"I'm not aware of the calls," Carney said. "I can tell you that the president and this administration makes clear to our allies and partners and nations around the world that LGBT rights need to be respected everywhere, but I don't have a specific – I haven't discussed this with him."
Watch, AFTER THE JUMP…