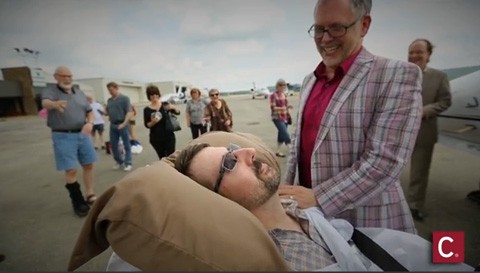 John Arthur and Jim Obergefell, together for 20 years, decided that they wanted to marry after the Supreme Court struck down DOMA, but Ohio bans gay marriage and travel is difficult. "Arthur is bedridden with amyotrophic lateral sclerosis, or ALS, a progressive neurological disease that robs patients of their ability to walk, talk and eventually breathe," Cincinnati.com reports, so conventional travel was out of the question.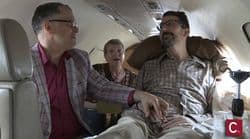 Donations poured in that would cover the cost of a $12,700 private plane charter, Cincinnati.com adds:
Obergefell flew to Baltimore on Tuesday, obtained the marriage license and flew back a few hours later.
And then on Thursday Arthur and Obergefell boarded a Lear jet at Lunken Airport with a nurse, two pilots trained in emergency medicine, and Arthur's aunt, Paulette Roberts, who'd been ordained to perform weddings with the hope that she'd someday get to do theirs.
They touched down in Baltimore at 10:39 a.m. The plane parked off the runway and the pilots stepped outside.
And then, in the cramped cabin of the jet, Obergefell seated next to Arthur's stretcher, the couple turned to each other and held hands. Roberts sat behind them and began to speak.
Watch the beautiful story (warning: autoplay), AFTER THE JUMP…
Make sure not to miss a Towleroad headline by following @TLRD on Twitter. We appreciate it when you share and RT our content.