Despite making number 45 in Out magazine's 2007 list of the "50 Most Powerful Gay Men and Women in America," former Vogue editor-at-large and fashion guru André Leon Talley told Vanity Fair this week that he's not gay. He did admit however to having "some very gay experiences":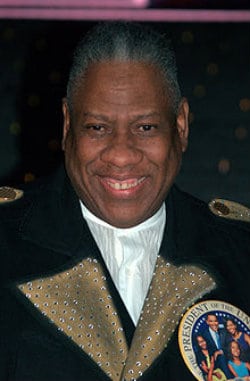 When (Vogue contributing editor Vanessa) Grigoriadis asks Talley if he thought he was gay, even in high school, he responds, "No, no, no. I was just into my magazines and the drawings. I had a very strict upbringing, almost puritanical. I lived there all the way through college. I was in my grandmother's house, and I respected that!"
Talley tells Grigoriadis that he rejects the "label" and says that, while he has "had very gay experiences, yes, I swear on my grandmother's grave that I never slept with a single designer in my life. Never, ever desired, never was asked, never was approached, never, ever bought, in my entire career. Never. Not one. Skinny or fat. Never."
Talley also tells Grigoriadis that he has never been in love with a man—only two women: one a fellow student in Providence, the other a society woman with whom he fell in love after a night of dancing in Manhattan and whose name he declines to share because she later married and had children.
On being single, Talley says, "I just said to a friend, 'I can create this magic, so why don't I have a lover?'" But, he tells Grigoriadis, "if I was a couple, I wouldn't like to stay in the same bedroom. It is very un-chic in Europe to sleep in the same bedroom."
In the same interview, Talley discusses his weight — "I do not weigh myself… I only know what I weigh from the way my clothes fit."
He also opines on whether his race explains why he's never been the editor of a major fashion magazine — "People stereotype you… What person of color do you know who's in a position like that, be it a man or a woman, unless it's Essence magazine?"