BY NAVEEN KUMAR
An amiable yet thin new musical about the awkward trial in
its title, First Date, with book by
Austin Winsberg and music and lyrics by Alan Zachary and Michael Weiner opened on
Broadway Thursday night at the Longacre Theatre.
Arriving on Broadway after its world premiere at the 5th
Avenue Theatre in Seattle, the musical follows an unlikely pair through
conventional first date milestones—including appropriate cocktail banter (keep
it light), when it's OK to mention your ex (never), and the precautionary
bestie bailout call (always have an exit strategy). Spoiler alert: the check
makes a cameo near evening's end.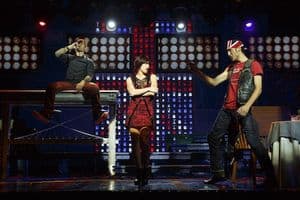 Zachary Levi (Chuck)
plays Aaron, a nice buttoned up Jewish Wall Street type on his very first blind
date—kind-hearted, self-deprecating and anxious to please. In comes Casey,
played by Krysta Rodriguez (Smash, The
Addams Family), a prickly and gleefully jaded downtown girl with a taste
for bad boys and a history of serial dating.
As Aaron and Casey navigate the occasion's many landmines,
their on-paper personas gain some dimension from musical asides performed mostly
in their imaginations. Their fellow diners double as family members, best
friends, exes—even clerical advisors—filling out their backstories while helping
them belt out their judgments and insecurities.
The show is by turns amusing, relatable, remarkably cliché,
and surprisingly whitewashed (Aaron's deceased granny makes much musical fuss
over Casey being a shiksa).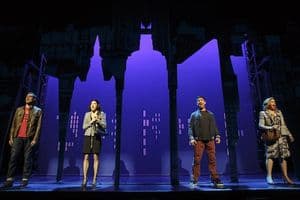 Though clever at times, Winsberg's story rarely surpasses
its simple concept. Direction by 5th Avenue Theatre's Bill Berry and
musical staging by Josh Rhodes is likewise uncomplicated, moving characters seamlessly
between musical asides, without particularly elevating the limp material. Songs
by Zachary and Weiner are fairly catchy if not terribly original with a standout
or two, including a number in which Casey takes down her tough girl exterior.
Levi is endearing and charming as Aaron, making his Broadway
debut with a pleasant voice and natural comic timing. Rodriguez also delivers
an assured performance, despite her character being the more slightly drawn of
the two.
The supporting cast admirably fills out its cookie cutter
characters—gay best friend, Stepford wife sister, frigid ex, etc.—though
scribes leave little to no wiggle room for nuance.
Anyone who's been single in New York (or anywhere, really)
isn't likely to learn anything new here—and (hopefully) most have been on more
unpredictable and stimulating first dates than this one. 
Recent theatre features…
'Harbor' with Randy Harrison Opens Off Broadway: REVIEW
'A Kid Like Jake' Opens Off Broadway at LCT3: REVIEW
2013 Tony Awards Round-Up: Drag Queens, Pioneer Women, and Mike Tyson
'Far From Heaven' Opens Off Broadway: REVIEW
Place Your Bets: 2013 Tony Awards Predictions

Follow Naveen Kumar on Twitter: @Mr_NaveenKumar (photos:joan marcus)