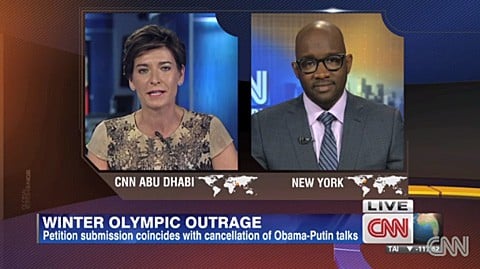 AllOut Executive Director Andre Banks appeared on CNN yesterday after the group delivered more than 320,000 petitions to the International Olympic Committee at a meeting during which senior IOC staff said it would pursue a written (rather than verbal) commitment from the Russian government that athletes and visitors to Sochi would not be persecuted under anti-gay laws. The petitions contained signatures from AllOut as well as Athlete Ally members, and statements from former Olympians, as well as a letter from British actor Stephen Fry.
Still, Banks asserts that is only a first step:
"We know that this is not far enough. We can't just have assurances for the two weeks of the Olympics and then walk away knowing that one of the worst laws in the world is still on the books in Russia…Holding these Olympics in Sochi, this year, under these laws, is like hosting an Olympic Games in Johannesburg at the height of Apartheid. It simply cannot stand without a major debate…The conversation about the Olympics is about the anti-gay hate laws and it's going to stay that way. We would love for that to change but it's only going to happen when President Putin takes the right steps and repeals these laws as fast as his government passed them."
Watch, AFTER THE JUMP…