Students rallied in front of St. Lucy's Priory High School on Thursday in support of Ken Bencomo, a gay teacher who worked at the school for 17 years but was fired after news of his marriage was published in local papers (see our earlier report here).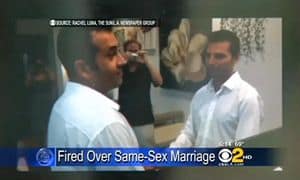 The school was not swayed, ABC7 reports:
In a statement, the school made it clear that they are sticking with their decision.
"In the spirit of democracy, the administration of St. Lucy's Priory High School recognizes and thanks the community for voicing their opinions in a spirited and peaceful manner," the statement says. "Hopefully, we can now most past this issue and concentrate on providing a quality education for the young women who have enrolled at St. Lucy's to seek, practice and adhere to values in education based on the Roman Catholic tradition."
Students say even though the protest did not get the school to change its decision, they're going to continue circulating the online petition to reinstate Bencomo. So far, they have collected nearly 50,000 signatures.
Watch a report on the protest from ABC7, AFTER THE JUMP…