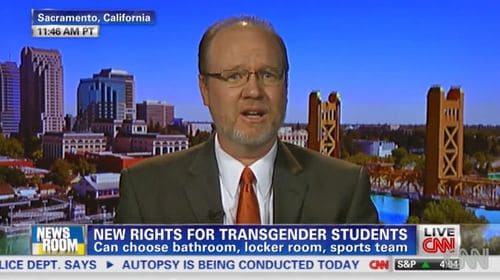 California Governor Jerry Brown signed a bill two days ago enacting new legal protections for transgender students. Thanks to the new law, trans public school students will now be allowed to use the restroom and locker facilities and play on the sports teams that correspond to their desired gender. The landmark decision was naturally praised by some and lamented by others.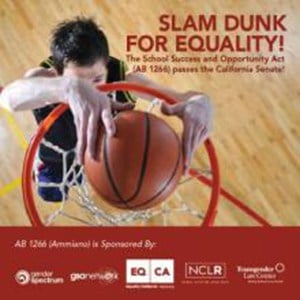 CNN recently tried to feature just a small portion of that debate during one of its broadcasts. To do so, they brought on Masen Davis, the Executive Director of the Transgender Law Center, and Randy Thomasson, president of the SPLC-identified hate group Save California. The debate proceeded rather unremarkably, with Thomasson repeatedly claiming that the new "sexual indoctrination laws" violates the privacy of cisgender students. It wasn't until the very end of the debate that Thomasson decided to end the debate with an unnecessary and bigoted bang. 
As host Brooke Baldwin thanked her two guests, Thomasson countered back with a placid "hey, good to talk to you ladies."
Davis, who behaved rather placidly on the air, shared his thoughts on the barbed comment with Raw Story. 
"Thomasson's attempt to disrespect my own gender identity by referring to me as a 'lady' said more about him than me (I'm no lady, and clearly he is no gentleman). I am comfortable in my own skin, and proud of my journey as a transgender man. I have heard, though, from many transgender people and allies who are very upset by his shallow attempt to mis-gender me. Failing to honor the gender identity of a transgender person is a common way for anti-equality zealots to try to undermine our credibility and humanity…I am surprised and disappointed that CNN relied on Randy Thomasson, described by Media Matters as the leader of an 'anti-LGBT hate group,' to discuss the passage of California's AB1266 (the School Success and Opportunity Act). Thomasson's extremist sentiments exemplify why transgender youth and adults alike need legal protection from discrimination and bias. I urge CNN to engage more reasoned and legitimate 'experts' in future segments about transgender issues."
Perhaps Thomasson is still bitter about being previously humiliated while on the airwaves. Or perhaps Thomasson and Save California are simply following their usual pattern of fearmongering and making hateful and ignorant remarks.
View the entire exchange AFTER THE JUMP…