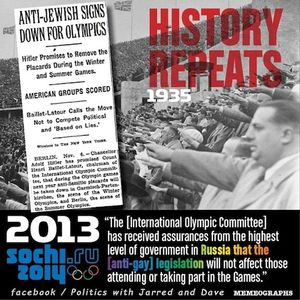 In all the news around Russia's anti-gay pogrom, one comparison that gets brought up again and again is Putin to Hitler, Godwin's Law be damned. The comparison shows even greater similarity when set side-by-side with the 1936 Olympics in Berlin. Over at AmericaBlog, John Aravosis provides a quick history lesson on how the IOC responded to Der Führer's campaign against the Jews.
In short, IOC chair Baillet-Latour was appeased by Hitler taking down anti-Jewish propaganda for the duration of the Olympics, but "asserted that the agitation against participation [in the Olympics] was exclusively a political campaign, citing as evidence the fact that none of the national Olympic committees now opposed having the games in Berlin."
And thus the maxim about being doomed to repeat history becomes ever more ominous.