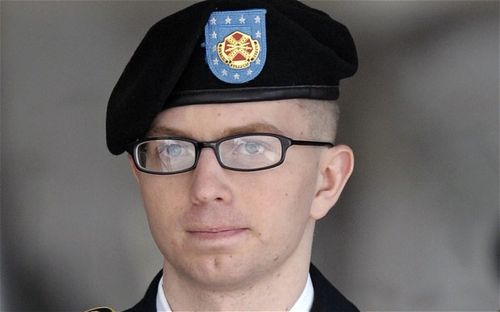 Bradley Manning has been sentenced to 35 years in prison for leaking more than 700,00 classified documents to Wikileaks, the WaPo reports:
Manning, 25, was convicted last month of multiple charges, including violations of the Espionage Act for copying and disseminating the documents while serving as an intelligence analyst at a forward operating base in Iraq. He faced up to 90 years in prison.
According to the military, Manning is required to serve one-third of the sentence before he becomes eligible for parole.
The government had asked Judge Denise Lind, an Army colonel, to sentence Manning to 60 years. "There is value in deterrence, your honor; this court must send a message to any soldier contemplating stealing classified information," said Capt. Joe Morrow, a military prosecutor. "National security crimes that undermine the entire system must be taken seriously."
Manning will receive credit of 1,293 days for time served, including 112 for abusive treatment, adds the WaPo. UN torture investigators have called treatment of Manning while he was detained "cruel and inhumane".
Manning was found guilty last month of six counts of violating the Espionage Act, five counts of stealing government property and one count of violating the Computer Fraud and Abuse Act, and found not guilty of the most serious charge, "aiding the enemy".
Manning was dishonorably discharged, said Lind.
The NYT adds:
Private Manning's sentence will automatically be sent to the Army Court of Criminal Appeals. Before the next phase can begin, the entire court-martial proceedings must be turned into an official transcript, which both the defense and prosecution, as well as the judge, must approve; that process is expected to take considerable time. Pretrial hearings started in 2012, and the trial itself began in early June.