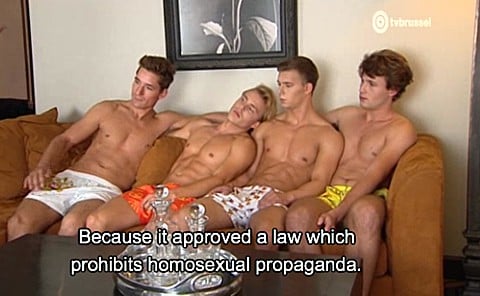 Belgian fashion designer Kristof Buntinx has a Russian protest of his own in the works, featuring a set of boxer shorts and a set of willing models.
Watch his video, AFTER THE JUMP…
He writes: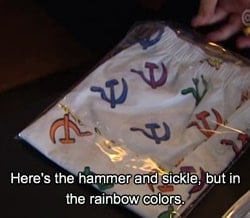 I am often on Facebook, as are virtually all young people and I was struck by the short films on the Internet of pestered and hassled young gays in Russia. At first I did not find it so serious that Putin is against homosexuals. That is everyone's choice. I too do not want to love everyone. I decide for myself what my preferences are and with whom I want to hang around. But on seeing these films I felt sickened and I was disgusted. It is too much. If you do not like the fact that I am homosexual, I can learn to live with it. But to humiliate, attack and torture people is really going too far. I myself was always pestered and hit as a child at school. First as the young son of the teacher and after that because I was the queer of the class, I was the stereotype of a soft gay teenager. I had a barren youth as a result. There were however some people who sided with me and I still know who those people were and I am thankful for it.
Hence this campaign.
I myself have set to work with my graphic designer and I have made 17 patterns of Russian symbols and motifs for the creation of a collection of boxer shorts.
Buntinx says he plans to make a Russian gay calendar with the photos and wants to collaborate with the LGBT organization Cavaria in Brussels.
No word on how sales from his fashion campaign, 'To Russia with Love', will benefit oppressed LGBT people in Russia.
Watch his video, AFTER THE JUMP…
(via the underwear expert)