San Diego Mayor Bob Filner will resign after a six-week sexual harassment scandal in which more than a dozen women have said he made inappropriate advances toward them, NBC San Diego reports: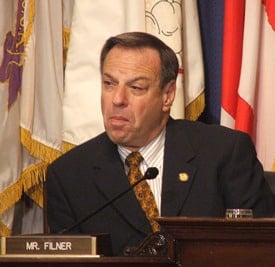 Filner, spotted leaving City Hall with packing boxes Wednesday night, will formally vacate the office following a closed session of City Council Friday according to several sources. Just before 7 p.m. Wednesday city officials announced a proposed solution in the scandal that has consumed the city of San Diego since it first broke July 10. In the last six weeks, more than a dozen women have come forward with tales of alleged sexual harassment and unwanted sexual advances.
Filner attended a mediation session with city officials on Monday after disappearing for three weeks.
Todd Gloria, the openly gay City Council President, will take over as acting mayor under the City Charter. There could be at least one primary special election within 60 to 90 days, according to NBC.