Actor Cheyenne Jackson appeared on The Frank DeCaro Show on SiriusXM OutQ yesterday and cleared up rumors that his personal life is spiraling out of control.
Said Jackson to DeCaro: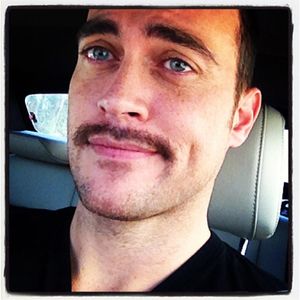 "I do have a mustache, but it's for the new Ira Sachs movie with Alfred Molina and Marissa Tomei and John Lithgow, so that's what that's for. I do have a new tattoo, and it's personal. I'm happy to tell… [the story behind it]…now because it's out there, but you know, it's for my dad. It's song lyrics from an old Elvis song that he used to sing to me when I was little, and it was going to be a Christmas present, but I decided to give it to him early. And it was a beautiful, beautiful moment between us and, you know, it's very special—and for that to be kind of reduced to gossip fodder is obnoxious, and well, you know what, I wasn't going to go there but I will say that special moment with my dad came from something else that came out [Wednesday] in one of these f**king [reports] is that I'm in AA, and that happens to be true. I started my recovery last summer, and it became something I really wanted to focus on in my life, and repairing relationships with my family and such, so this is a really strong, beautiful time for me, personally. It also is a very sad time because I'm going through a divorce, but yeah, I mean, you know, some members of my family didn't even know I was in Alcoholics Anonymous, so that was pretty f**ked up to actually have people [find out that way]…"
Added Jackson, when asked how he felt about being an out gay man having to issue a statement about his divorce:
"Yes, it is weird. But it's a fact. And you just have to accept the way things are. Sometimes I think I am a little naïve to think that people even care, but they do. So you have to understand the significance that your relationship had to other people and I know that our marriage meant a lot to a lot of people…so that's not lost on me, and I respect that…I didn't want to have to say anything. The royals, the monarchy over in England always say 'Never complain, never explain.'  And so I'd love to adhere to that, but the fact of the matter is, I did have to say something.  It was getting a little ugly, and my sister and brother were like 'What's up?' So, it is kind of weird to have to make a statement about it….and Monte [Lapka] and I talked about it and decided what we wanted the statement to say…and it was nobody else's business….yes, it is weird, but it is a fact."
Listen to clips of the interview, AFTER THE JUMP…
"The Frank DeCaro Show" airs weekdays from 11:00 am – 2:00 pm ET on SiriusXM OutQ channel 109.