When Montgomery County Register of Wills D. Bruce Hanes announced that he would start issuing marriage licenses to same-sex couples of Montgomery County, despite the state's existing ban on same-sex marriage, a subsequent legal controversy was practically expected. Now that the legal challenge has been filed and is being brought before a court, attorneys on both sides are being advised by a Commonwealth Court exactly how to present their cases.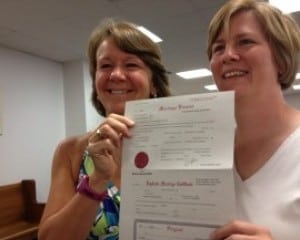 According to The Times Herald, attorneys should be forming their legal arguments to address five key issues:
"According to the court directive, the five main issues to be argued in the lawsuit include whether Commonwealth Court has jurisdiction, because Hanes might be considered a judicial officer, and whether the issuance of a marriage license is even a judicial act at all.

"Another issue is whether the Pennsylvania Health Department, which filed the lawsuit against Hanes, has the legal standing to sue. If it does not, a judge will have to determine whether Attorney General Kathleen Kane's refusal to defend the state's marriage act has anyimplications for the case.

"Since the Health Department is asking the court to issue a writ of mandamus against Hanes — essentially ordering him to stop issuing the licenses — a judge will also have to decide whether his actions are constitutional."
Attorneys for both parties have already filed several briefs on the case, including ones that call for the suit to be thrown out, as well as for the court to intervene and stop the issuance of marriage licenses to same-sex couples. At present, the Hanes' office is still issuing said licenses, despite the current legal dispute. As of close of business Thursday, the grand total for same-sex couples applying for marriage licenses has reached 143.