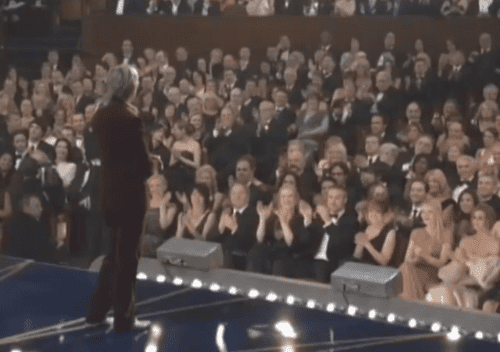 Ellen Degeneres, one of the foremost funny people in America, will be hosting the 2014 Academy Awards on March 2, 2014. The Academy of Motion Picture Arts and Sciences made the announcement this morning amid the already fresh buzz about the newly elected president of the Academy, Cheryl Boone Isaacs. Isaacs is the first African-American president of the Academy, and she resoundingly approved of Ellen's nomination to host.
The Hollywood Reporter reports:
Ellen DeGeneres will host this year's Oscars. DeGeneres herself announced the news Friday morning on Twitter, writing, "It's official: I'm hosting the #Oscars! I'd like to thank @TheAcademy, my wife Portia and, oh dear, there goes the orchestra."
DeGeneres previously hosted the show in 2007 and earned a Primetime Emmy nomination for her work.
"I am so excited to be hosting the Oscars for the second time. You know what they say — the third time's the charm," DeGeneres said in a statement.
Ellen is receiving support from all involved with the Academy and with the Oscars broadcast, due largely to her warmth, a refined sense of humor, and her universal appeal (qualities which many felt this year's host, Seth MacFarlane, lacked).
Zadan and Meron added: "We are thrilled to have Ellen DeGeneres host the Oscars. As a longtime friend, we had always hoped to find a project for us to do together and nothing could be more exciting than teaming up to do the Oscars. There are few stars today who have Ellen's gift for comedy, with her great warmth and humanity. She is beloved everywhere and we expect that the audience at the Dolby Theatre, and in homes around the globe, will be as excited by this news as we are."
Newly elected Academy President Isaacs said, "I agreed with Craig and Neil immediately that Ellen is the ideal host for this year's show. We're looking forward to an entertaining, engaging and fun show."
Dawn Hudson, Academy CEO added. "Ellen is talented, wonderfully spontaneous, and knows how to entertain a worldwide audience. She's a big fan of the Oscars; we're huge fans of hers. It's a perfect match."
Meanwhile, ABC Entertainment Group president Paul Lee said, "It is an honor to welcome back Ellen DeGeneres as the host of the biggest entertainment celebration of the year. She is the consummate entertainer, equally beloved by her peers in the industry, movie fans and television viewers. We very much look forward to having her back on ABC for Oscar Sunday."
Degeneres was previously nominated for a Primetime Emmy Award for her hosting abilities. Let's hope the second (and the third, and the fourth…) time's the charm. 
Watch Ellen's previous Oscar hosting gig, AFTER THE JUMP…