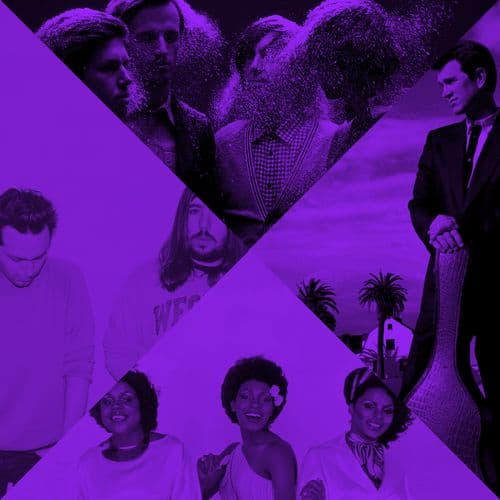 BY OCCUPY THE DISCO / JOSH APPELBAUM
The OXD Mirror is a weekly music column brought to you by the boys of OCCUPY THE DISCO (OXD), a New York City based movement created by three music lovers, Ru Bhatt, Josh Appelbaum, and Tadeu Magalhães, who want to share their love for disco, house and dance music with the world.
First Choice: 'Double Cross (Eli Escobar Remix)'
Though never hugely commercially successful, Philly-based female disco group First Choice was hugely influential on the dance and house music world as well as a having served as a mainstay on gay dancefloors across the world.  While most of their mainstream success happened within the 1972-1974 time period, some of their longest-lasting hits within the gay community came well after that, including 1977's 'Doctor Love', 1979's 'Love Thang', and perhaps their most notable song, 1983's 'Let No Man Put Asunder'.  'Double Cross' is another 1979 track from the group that happened to get them some mainstream attention after being off the charts for 2 years. New York's very own Eli Escobar, a DJ and producer who we've featured on Towleroad previously, takes a bold stab at remixing this traditional disco jam into a deep house track.  Escobar's style – heavy on varying drum machines, deep synths and cascading instrumentals – works well in this instance to create a completely different track that still highlights the signature chorus 'Double Cross' is best known for.
O F F M S G: 'Theme'
Tom Mangan started Millionhands, an apparel-come-music label, to show that there is life after the post-club scene after spending a number of years producing and djing.  Recently the brand has been releasing limited amounts vinyl on their own namesake, including the unknown name O F F M S G's recent dual side singles, Hott/Theme.  According to the label, 'Theme' is "the result of a Todd Terry and John Talabot jam session. All bouncing house organs and stripped back beat, with a smattering of female new yorikan vocal reassuring us…'Gonna be alright…'"  Though we may not know exactly who O F F M S G might be, likely a white label name for Millionhands' guest artists, this chic 90's-inspired track is one that I definitely hope to hear more of.
Cut Copy: 'Let Me Show You'
Cut Copy is back with a long-awaited new single after 2011's epic Zonoscope.  The Australian natives formed in 2001 during the heavy period of electro music of the early 2000s and have since refined and rediscovered their sound with every subsequent album.  Zonoscope was Cut Copy's moment to show a lighter side of themselves, with a pop sensibility that was less present in previous efforts.  A psychedelic, somewhat trippy sound was also featured on their last album, which can be heard to a higher degree in their new single 'Let Me Show You'.  The band's signature ethereal vocals are layered in with heavy synths, a slow beat and layered piano to create a simmering, slightly psychedelic track that is sure to delight.
MORE NEW MUSIC, AFTER THE JUMP…
Jensen Sportag: 'Bellz'
Hailing from Nashville, Austin Wilkinson and Elvis Craig, known together as Jensen Sportag, have been making nostalgic and classics-inspired music since 2006.  Following their 2011 EP Pure Wet, the group is putting the final touches on their new LP, Stealth of Days. 'Bellz' is the first single off of the new album, and has a vaguely familar 80's nu-wave sound to it.  It's sleek, light, and has a sensibility that parlays from a city lounge all the way back to sunlit pool deck.
Chris Isaak: 'Wicked Game (Lane 8 Remix)'
Chris Isaak's sleeper hit 'Wicked Game' was originally released in 1989 but didn't become popular until 1991 after an Atlanta-based radio DJ heard it in a film and put it into regular rotation.  The iconic video, shot in black and white by Herb Ritts and featuring a topless Helena Christensen, is still one of my favorites to this day.  San Francisco-based producer and DJ Daniel Goldstein, better known as Lane 8, has added some subtle touches to the radio version of the song.  A new backing beat and dropout of the instrumentals (which are too good to edit over for the most part) keep the classic elements of the song intact while adding some tempo and a little extra life into the now 14-year-old song.  
Lane 8 will be DJing along with Mighty Mouse at Occupy The Disco's first night at Le Bain at The Standard Highline, next Friday, August 9th.  Join us for a night of great house and disco music at one of NYC's best dance venues.  More info on our website!
Slow Knights: 'I Got It That Bad (ColeCo Remix)'
Slow Knights, the collective spearheaded by The Scissor Sisters' Del Marquis (aka Derek Gruen), has been on a roll with great club-inspired tracks this summer.  With rotating vocalists including out UK singer Bright Light Bright Light and Broadway actor Mykal Kilgore, as well as backing vocals from Prince's New Power Generation Band, the group displays a pop approach that is flexible and easily spans across multiple genres.  In May, Canadian producers ColeCo remixed Slow Knight's 'Shame' and have followed up with a more tropically-inspired remix for 'I Got It That Bad'.  With still a month or so left of summer, this remix comes in perfect time to complement the rest of our days by the beach or pool.
We are on Spotify!  Subscribe to our 'As Featured on Towleroad' Playlist to listen to tracks posted from past weeks.
For more information on OXD, check out our website and accompanying blog at www.occupythedisco.com, like us on Facebook, or follow us on Twitter: @OccupyTheDisco