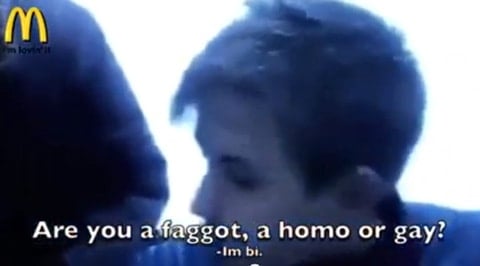 A Chicago-area activist group is planning to march on the McDonald's corporation headquarters in Oak Brook, Illinois on August 17 at 11 am:
The
group is calling on McDonald's to cease their support of the Games to
take a stand against Russia's harsh new anti-LGBT laws. In a deal that
lasts through 2020, McDonald's pays about $100 million to be sole retail
food sponsor for each pair of Olympics in a four-year period.
The protest will "tell McDonald's Corp. to stop sponsoring the homophobic Sochi Winter Olympics. Russia has implemented laws to arrest and deport anyone who is or they suspect is gay," according to StonewallAgain's Facebook page.
The organization's founder, Mike Lackovich, said that he had become dismayed with the situation in Russia and tried in vain to get contact with McDonald's, which has so far remained silent on the matter.
This week McDonald's was targeted with a parody ad which featured a gay teen being brutalized by a gang of Russian thugs. The clip has been removed from YouTube.