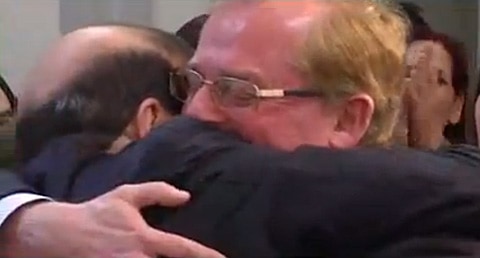 After a 90-day waiting period, the first gay couples were able to marry in Uruguay yesterday, Blabbeando reports:
Rodrigo Borda and Sergio Miranda, the first couple to apply for marriage in Montevideo on the 6th, hoped theirs would be the first marriage as the law went into effect yesterday and invited media to wait for them outside the private civil court ceremony at 11:30am.
International news agencies called them the first and AFP posted a video of the happy couple after the civil ceremony in which Miranda states "While in Russia they incite violence and hunt us down and kill us like the Nazi regime, in Uruguay we can get married, we can celebrate love. So I'm very happy to live in a country like Uruguay and not like Russia. That's all I have to say."
Uruguayan press, though, report that Rubén López and Mario Bonilla, together for 21 years, were married earlier yesterday morning in the city of Mercedes.
Watch video of the wedding, AFTER THE JUMP…