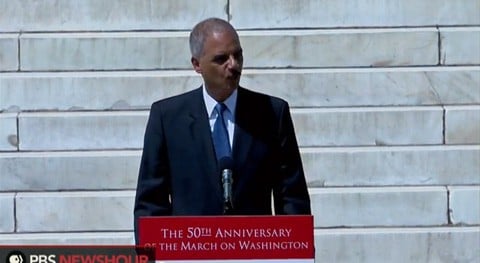 Attorney General Eric Holder spoke at the National Action to Realize the Dream March today on the National Mall as part of the 50th Anniversary of MLK's March on Washington, noting that King's legacy and vision have expanded to include many others, including gays and lesbians.
Said Holder, in part:
Fifty years ago, Dr. King shared his dream with the world and described his vision for a society that offered, and delivered, the promise of equal justice under law.  He assured his fellow citizens that this goal was within reach – so long as they kept faith with one another, and maintained the courage and commitment to work toward it.  And he urged them to do just that.  By calling for no more – and no less – than equal justice. By standing up for the civil rights to which everyone is entitled.  And by speaking out – in the face of hatred and violence, in defiance of those who sought to turn them back with fire hoses, bullets, and bombs – for the dignity of a promise kept; the honor of a right redeemed; and the pursuit of a sacred truth that's been woven through our history since this country's earliest days:  that all are created equal.

Those who marched on Washington in 1963 had taken a long and difficult road – from Montgomery, to Greensboro, to Birmingham; through Selma and Tuscaloosa.  They marched – in spite of animosity, oppression, and brutality – because they believed in the greatness of what this nation could become and despaired of the founding promises not kept.  Their focus, at that time, was the sacred and sadly unmet commitments of the American system as it applied to African Americans.  As we gather today, 50 years later, their march – now our march – goes on. 
And our focus has broadened to include the cause of women, of Latinos, of Asian Americans, of lesbians, of gays, of people with disabilities, and of countless others across this country who still yearn for equality, opportunity, and fair treatment.
Watch his speech, AFTER THE JUMP…