Gay former NFL player Wade Davis has been named Executive Director of the 'You Can Play Project', a group working to support LGBT rights and fight homophobia in sports, the organization announced today: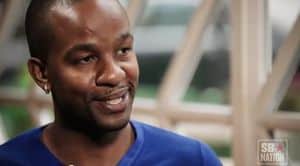 Davis is a former NFL player who is one of a small number of openly gay men to have played professional sports. Davis played college football at Weber State before spending four years with NFL practice squads and in NFL Europe. In addition to his collegiate and professional sports background, Davis has spent the last two and a half years working with inner-city LGBTQ youth at the prestigious Hetrik-Martin Institute in New York City. This year, Davis co-founded the You Belong Initiative, which partnered with the NBA, You Can Play, and other LGBT Sports groups to provide the world's first LGBTQ sports camp to inner city youth. A member of this year's HBO "Out List", Davis has written for the New York Times, Huffington Post, Outsports.com, and other major media outlets. Davis appears on the boards of the GLSEN Sports Project and Go! Athletes.
Said You Can Play co-founders Patrick Burke, Brian Kitts, and Glenn Witman in a joint statement: "Wade is an absolute home run addition for You Can Play. With a background in both professional sports and in working directly with LGBT youth, he has what can only be described as utterly unique expertise. He has worked with numerous non-profits before, and as the founder of the You Belong Initiative he has experience in fundraising, development, and administration. He brings the ability to connect with pro athletes, with kids, and with media. He is an athlete, an academic, a teacher, a coach, a businessman, and a leader."
Added Davis: "I am honored to have the opportunity to join such a ground-breaking organization in You Can Play. In a short period of time, their work has made significant strides in changing the culture of the sports world. I am hopeful that my background as an athlete and an LGBT youth advocate will allow me to take You Can Play to the next level."
Davis began talking about his sexuality publicly in June 2012.