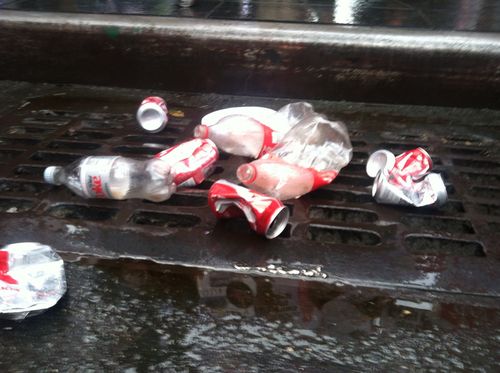 Today, the gutters of New York City ran red with…empty Coca-Cola bottles? At noon on Wednesday, protestors gathered in Times Square to demand that Coca-Cola rescind its sponsorship of the 2014 Winter Olympics in Sochi, Russia. The crowd was made up of LGBT groups who oppose Coke's involvement with the Olympic Games due to the anti-gay propaganda laws currently in place in Russia, and thus, Coca-Cola's transitive support of those laws. The protest, as Towleroad previously reported, was sponsored by Queer Nation, the group which also boycotted Russian vodka starting back in July.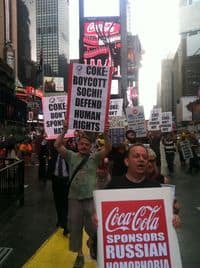 The Queer Nation NY release reads:
Gay groups charge the beverage giant of sponsoring hate and will dump Coke into the street and will crush Coke cans to protest of the company's continuing silence on Russia's anti-LGBT law and to demand that it immediately withdraw its corporate sponsorship of the Games. Protestors will use the hashtag #DumpCoke on all social media channels.
"By sponsoring the 2014 Winter Games in Sochi, Coca-Cola is associating its brands with state-sanctioned gay-bashing," said Queer Nation co-founder Alan Klein. "Coca-Cola is sacrificing the safety and security of Russian LGBT people for profit – a position that opposes fundamental Olympic principles, runs counter to the International Olympic Committee charter, and that will tarnish its global image for decades to come."
Queer Nation's Klein added, "Sponsoring the Games gives legitimacy to the host nation and that is exactly what Coca-Cola did when it sponsored the 1936 Games in Nazi Germany. We hope that Coca-Cola does not ignore its own history and does the right thing by refusing to support another regime that targets groups for hatred."
Images courtesy of Scott Wooledge.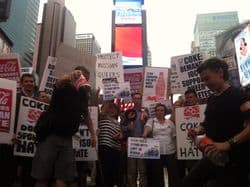 Along with their official statement, Queer Nation outlined a set of demands that Coca-Cola must follow in order to gain the support of the LGBT groups involved in the protest:
LGBT groups are issuing the following Statement of Demands to The Coca-Cola Company:
Coca-Cola must:
Withdraw its sponsorship of the 2014 Winter Games in Russia.

Release a statement in English and Russian that condemns workplace discrimination, harassment, and bullying directed at customers and employees based on gender identity and sexual orientation

Publish and publicize its LGBT employment policies on its Russian website in Russian and on physical bulletin boards and websites at all Coca-Cola owned and operated facilities.

Conduct periodic company-wide sensitivity trainings about its LGBT employment policies worldwide. 

Institute a long-range policy to widely distribute its LGBT employment policies in human resources documentation and internal communications at all owned and operated facilities worldwide.


Require that all Coca-Cola bottlers, distributors and vendors implement LGBT employment policies as a condition of their contract with The Coca-Cola Company.
Only time will tell how these fraught Olympic Games will progress, and what impact corporate sponsorships, protests, and media coverage will have on the LGBT community. Do you thin it is likely that Coca-Cola, and other corporations, will retract their sponsorship of the Games? Sound off in the comments below.