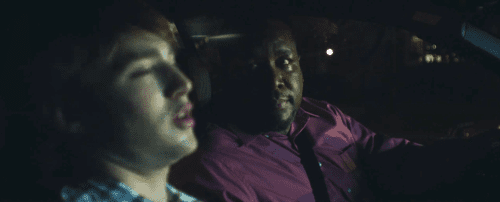 'Four,' a new movie from writer-director Joshua Sanchez, may be hitting the big screen on September 13th, but it has got the freedom of summer on its mind. Based on a 1996 play by Christopher Shinn, the film takes place on the Fourth of July and follows Joe (Wendell Pierce) as he leaves his family in order to spend a night on the town with June (Emory Cohen), a young man he met online.  
The film's website has an official plot synopsis:
In a nameless, suburban American town, the smell of barbeque fills the air as Fourth of July celebrations move from a hot summer day into night. Joe, a man who works hard and travels a lot, leaves his family behind for the holiday, citing a business trip. Abigayle, his precocious daughter, is left to tend to her ill mother and manage the house on her own, yet again. Seeking just enough attention to get her through another night of her lonely responsibilities, she turns to Dexter, a former high school basketball star whose best days are behind him. And while Abigayle is out with Dexter, Joe is quietly spending time around town with June, a young man he met online who's struggling to accept himself.  And for just this night, the small world that these four live in will become even smaller, though the freedom they experience has never been so dangerous, fleeting and honest.
Already a hit on the festival circut, 'Four' has garnered award nominations and a lot of buzz, including a coveted Independent Spirit Award nomination for Wendell Pierce's leading turn. It looks to be a fascinating, if not foreboding look into the lives of four people dealing with their inner demons.
Check out the atmospheric trailer, AFTER THE JUMP…