Gay rights activists confronted Russia's UN ambassador Vitaly Churkin when he arrived at his NYC residence yesterday, attempting to hand him the petition that was delivered to the IOC yesterday urging the repeal of Russia's anti-gay laws, the AP reports: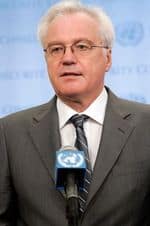 Ambassador Vitaly Churkin arrived at his residence on New York's Upper East Side in the late afternoon to find 10 activists from the international gay rights group All Out outside the wrought iron gates holding red placards saying: "340,457 worldwide say stop Russia's anti-gay crackdown." Minutes earlier, when they got no answer ringing the bell, they had slipped a CD with the signatures under the gate.
Churkin took the CD and spoke with AllOut Executive Director Andre Banks (who appeared on CNN the other day) about the laws, saying "We don't have anti-gay laws. We have laws banning homosexual propaganda among minors."
Churkin reportedly insisted no people have been harmed or killed because they're gay.