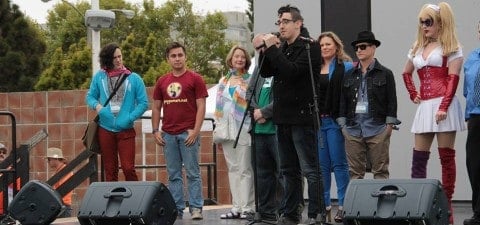 Last weekend hundreds of gay video gamers, or "gaymers", descended upon the Kabuki Hotel in San Francisco to attend the first ever convention created just for them: GaymerX, neé GaymerCon. The brainchild of Matt Conn, GaymerX was created so that there would be "a space where all gamers and queer geeks can come together in a welcoming and safe space." The project's Kickstarter received over triple its goal funding of $25,000 and had over 1,500 backers.
The event took over two floors of the hotel with vendor tables from companies large and small, and a weekend schedule was filled with panels and parties. Guests of honor, or "bosses" as they were dubbed, counted among them transgender designer and activist Anna Anthropy, Drag Race contestant Pandora Boxx (who debuted as Batman's Harly Quinn), and voice actress Ellen McClain who is best known for her role as GLaDOS, the malevolent AI from Valve's Portal series.
The highlight of the weekend came during the Saturday panel entitled "Voice Acting 101," hosted by Ellen and her husband John Patrick Lowrie (The Sniper, Team Fortress 2). At one point Ellen conducted a sing-along for Portal's ending theme, "Still Alive," and then took things in an unanticipated direction. I don't want to spoil the surprise, so you can see a video of the event courtesy of GayGamer.net … AFTER THE JUMP…
If you prefer to skip past the sing-along, fast forward to the 5:00 mark and you can get right to the surprise at 8:00.