NBC is trying to reassure its gay employees about Olympic coverage and their safety, the AP reports: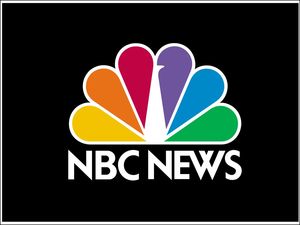 The
network said in a memo that it finds Russia's law and the prejudices it
represents to be "deeply troubling and diametrically opposed to
everything that the Olympics symbolize.'' The note by Craig Robinson,
NBC Universal's executive vice president and chief diversity officer,
was sent Thursday to all company employees who have identified
themselves as gay or lesbian.
…Robinson wrote in his memo that
"your security is paramount and we will do everything possible to
protect the rights, safety and well-being of our employees.''
…"The
spirit of the Olympic Games is about unifying people and countries
through the celebration of sport and it is our very strong hope that
spirit prevails,'' Robinson wrote. "Until then, we have and will
continue to cover these human rights violations on our broadcast and
cable news networks as the story continues to evolve.''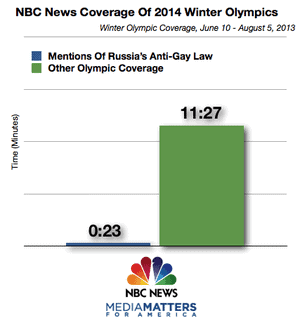 Meanwhile, Media Matters reports that NBC News has been virtually ignoring the controversy:
NBC News
Has Made Almost No Mention Of Controversy Over Russia's Anti-Gay Law.
According to a Media Matters analysis of NBC News' coverage of the 2014
Winter Olympics, NBC News mentioned the controversy surrounding Russia's
anti-gay law only once between June 10 – when the law passed – and
August 5, despite devoting several segments to the upcoming event:
Media
Matters searched news transcripts provided by Nexis and our internal
archives for the words "Russia," "gay," "Sochi," and "Olympic!" between
June 10 and August 5. Reruns and teases for upcoming segments were
excluded. NBC News programs include Today, NBC Nightly News, and Meet
the Press with David Gregory.
Segments were considered Olympic
coverage if they focused on some aspect of the Olympic Games, including
former and future Winter Olympians.